I'm excited to share an interview with Michele Lee of Davis Drive Middle School in Cary, NC.  As you'll read, she's using code to enhance her Family and Consumer Science courses.  We never could have imagined the inventive ways Michele and her (very engaged!) students are using Trinket.  All along, they're taking ownership over the code and developing confidence and curiosity that will propell their learning throughout their educational careers.
This is the latest in a series of periodic interviews we do with educational innovators.  You can find the full list here.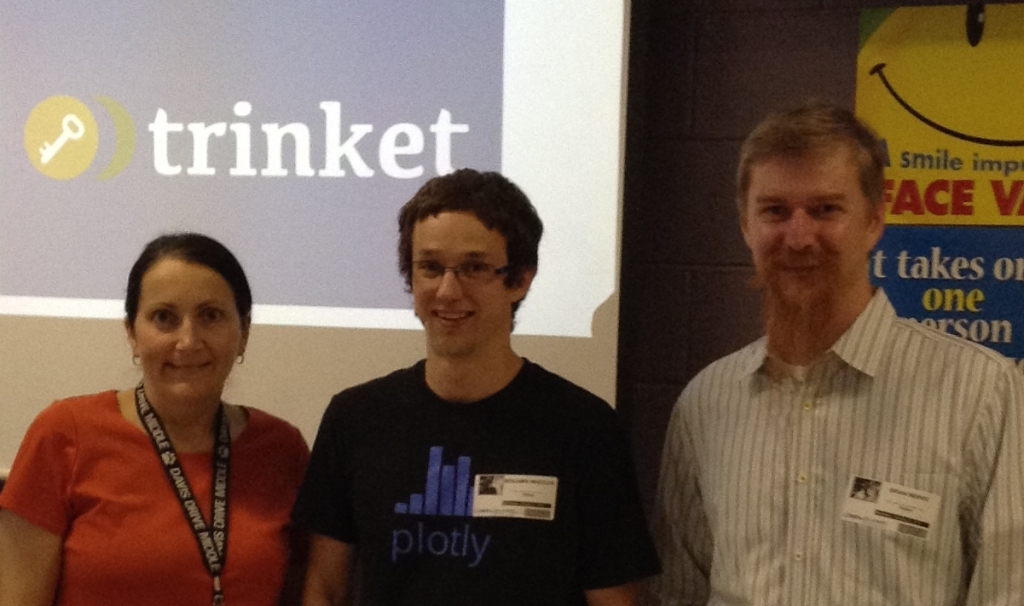 Elliott: You're doing some really cool things in your class with Trinket. Could you tell us what you teach and why you're interested in incorporating coding activities for your students?
Michele: I teach Middle School Family and Consumer Science which includes a variety of life skills. I am interested in teaching code to my students because I believe that code is an essential 21st century life skill that is relevant to my students' future education and careers. In addition, code is digital literacy and students need to learn all different types of digital literacy to become well-rounded 21st century learners.
Elliott: What is your teaching 'Style'? How have you fit Trinkets into that style?
Michele: My teaching style is very pragmatic, so I needed to find a coding platform that would be easy to use and practical. After using Trinket for about five minutes, I was hooked. As a result I created a practical coding lesson to teach students how to create digital flash card Trinkets for a test review we were doing in class.
Elliott: You've been able to bring code into your classroom incredibly quickly. I know you've mentioned on Twitter that your students are teaching you as well. Was it scary to take this risk in class? How did you overcome that fear?
Michele: It was very scary to take the risk to teach code but the way Trinket is designed removed all of the obstacles for me: it's free, it's open, there is no download necessary and the tutorial helped me get started quickly. It was really terrifying on day two when a few of my students had already advanced ahead of me and they were learning functions while the rest of us were still learning loops. I had to let go of my fear and allow my students to teach me for the first time ever. It was really transformational. I was amazed at what my students were doing in Python so quickly using Trinket. Spencer is one of my 8th grade students and he created this cool Trinket which is my current favorite:
Elliott: We first met you when Ben attended a CSTA event. Could you talk about what resources, events or groups you've found useful as you've learned about new activities to include in your classroom?
Michele: I am a big fan of the CSTA and I would not be here doing this if it was not for the open invitation from CSTA. It's great that an organization like CSTA is open to non-CS teachers. We need to spread code beyond the CS classroom. My goal is to introduce my students to CS with Trinket and to encourage their interest in coding. I also encourage them to code on their own and to take CS classes in high school and college.
Elliott: You're an enthusiastic evangelist for not just Trinket but any technology or technique that works. Do you have any suggestions for educators who want to participate in professional communities more deeply?
Michele: I have found social media to be a very powerful tool to connect with other educators with the same interests. I also like to attend face-to-face conferences with very specific topics I am interested in regarding technology in education.
Elliott: Is there anyone you admire or trends you're particularly excited about that you'd suggest others look into?
Michele: I'm very interested in the ongoing gamification trend and the evolution of user interface. I believe that my students will shape the future of user interface which is why I want to teach them how to code.
You can find Michele on Twitter @MsLeeCTE.