In a previous post, I talked about how Trinkets can turn Google Sites into an interactive tool for teaching Python.  By popular demand, here's a step-by-step guide to adding a Trinket to your Google Site.  Happy teaching!
Adding an interactive Trinket to any Google Site is easy.  Just follow these three steps:
1 – From the Edit page, Click the HTML Button
You'll want to click the Edit button: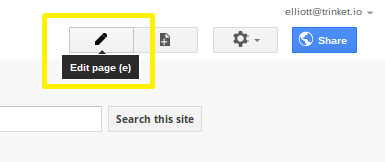 And then the HTML Button:

You'll then have a nice text box, ready for the Trinket embed code:

2 – Get the Trinket Embed Code
The 'Embed Code' is what tells Google sites which Trinket you want to display.  You can get this from any Trinket by clicking the 'Embed' button and Copying the text that appears:



Need some ideas for Trinkets to embed?  Try our Example Python Workshop or our free Python Trinket Creator.

3 – Paste the Embed Code in the editor.
Find the place you want your Trinket to show up and Paste the code there.  Click 'Preview' to make sure the Gadget box is in the right place.

That's it!  You're done!  You won't see the Trinket live until you click Save.
Questions?  Drop us a note on Twitter.