You may have heard that Trinket has committed over two thousand dollars in matching contributions to Professor Kris Shaffer's IndieGoGo project to write an interactive, open source Music textbook.  As Trinket's CEO, my job is to build a company that customers love enough to pay money to.  As an educator and erstwhile academic, I wholeheartedly support free and open access to educational materials.  Can I do both of these things at the same time?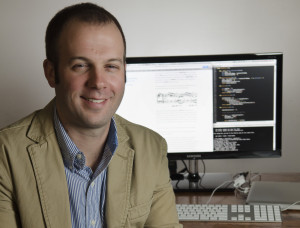 The open education side of the argument is clear.  Kris's project represents an opportunity for us to help an amazing professor make an enduring resource for his field.  The interactive music Trinkets we're building for the project will let professors like him present students with interactive scales and actually write and play melodies as they're reading the textbook.  We'll incorporate that technology into a Music Trinket that teachers can embed into any website, just like they world a video, making Music and Music Theory classes easy, hands-on and interactive.  By the way, this is exactly what we did for Python.  Kris walks through a prototype of our technology in this video.
Is there a business case for giving away money and textbooks?  Trinket believes that great Ed Tech businesses can't just distribute content: the Internet does that for free.  Instead, companies should ask themselves what value they're providing on top of open content. Kris's IndieGoGo campaign lets us put our money where our mouth is and do our part to make his open content interactive.  We're matching the first $2,500 in contributions to his campaign, which is a lot of money for a young company like ours.  This might make you think that the academic Elliott totally won out over CEO Elliott.  But this is exactly where we want to be: at the intersection of open knowledge and awesome teaching technology.
How will we make money? Open content and free distribution should be a shot across the bow for any business not providing at least some level of open access to its content, as our free Trinkets will continue to do.  Our forthcoming Premium Trinkets will enable real-time interaction between students and teachers during class, assignment submission, and more. Inspired by open educators like Kris, we want to make sure that our free Trinkets are a lasting resource that others can use to teach more effectively. Users who, like our tester teachers, love real-time interactivity for hands-on digital learning will help keep the lights on for us. Here's how the campaign is doing right now:
If you're as big a believer in open education as we are I hope you'll join us in supporting Kris's awesome project.  This textbook will help anyone teach using open, interactive materials for free using just a browser.  We can't wait to get started!  Here's a fun little music-themed Turtle drawing we made for you to play around with in the meantime:     p.s. Speaking of open source, our lead engineer Ben just open sourced the code behind our recently announced Charts Trinket this week.  Check the project out on Github and let us know if you put it to use!