Paul Kostak is a middle school science teacher at Canterbury School in Greensboro, North Carolina who began his career in environmental and geophysical consulting.  He's doing an amazing job of teaching a range of ages and subjects with code, and I'm very excited he agreed to share some of his thoughts with us. We recently got to visit his classroom and see his innovative style first person. Enjoy!
This is part of a series of periodic interviews we do with educational innovators.  You can find the others here.
Elliott: What is your teaching style? What's a typical class session look like for you?
Paul:  I want my classroom student centered as much as possible with the students in charge of their own learning. My role is to be a facilitator, giving them the resources they need and guiding them down a road to be as successful as they can, while also preparing them for the challenges in the science courses that lie ahead.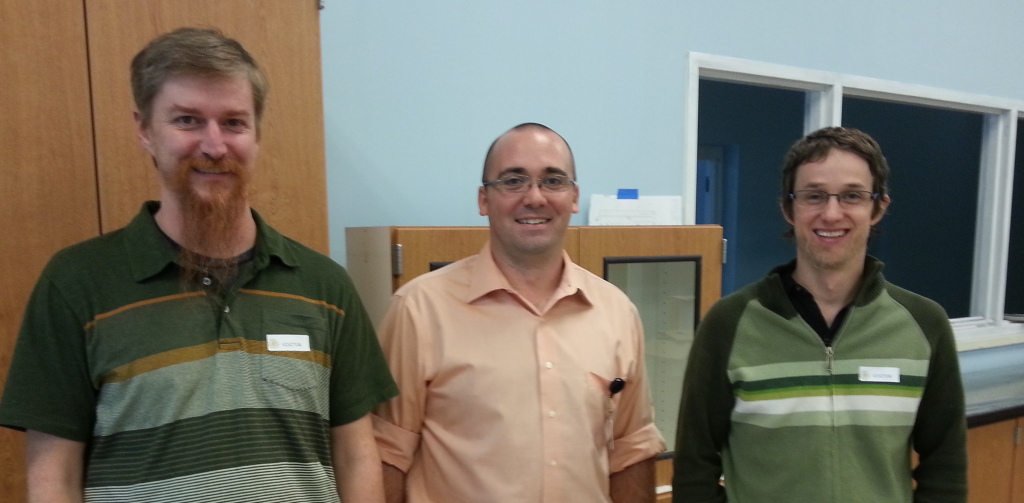 I like to have the students exploring, creating, and finding the answers through projects and challenges avoiding direct lectures when possible. If I have to lecture, I try to make it as interactive as I can, by moving around the room with demonstrations and involving the students. I truly believe that anytime a student can put their hands on the science or manipulate it, they will have a better understanding of the content.
How do you incorporate technology generally? Do you mix in unplugged activities as well?
Paul: We are a 1-1 Apple school which offers tremendous opportunity for integrating technology. I have integrated a variety of apps for students to use for research, presentations, and general practice of the material including games that cover the content.
My school is also redesigning the former gym on our campus to become a new STEM center and I will have a maker/design room attached to my classroom. With this new space, I have redesigned the 5th and 6th grade curriculums to include more unplugged design projects. Also every student in those grades will code with and without technology and study robotics.
Elliott: Your career has spanned the fields of scientific research and teaching. Can you talk a little about your background and how you made the transition into teaching?
Paul:  I began my career in environmental and geophysical consulting. It provided an opportunity for me to apply the science that I had studied during my undergraduate course work. I started with the geophysical team, which provided a variety of consulting services such as ground penetrating radar, electromagnetic surveys, seismic surveys, and electrical imaging. I ended up moving over to the environmental and remediation side of the business after a couple of years where I became a task/site manager for retail gas service stations. I was responsible for the scheduling and reporting of remediation work on a portfolio of sites.
While in consulting, I did not enjoy the work at all times and had been thinking of becoming an educator. I have been around educators my whole life as my mother works in the public school system. I began looking into different pathways to becoming certified to teach. After six years in consulting I decided to go back to school to earn my Masters in Education and get my teaching certificate. After graduating the program, I was in the classroom the following fall and have been since. I started in a public school in Connecticut and am now at Canterbury School, an independent school in Greensboro, North Carolina.
Elliott: Have you been able to incorporate coding or software outside the traditional science curriculum? 
Paul: Our school has 7th and 8th grade electives which offers an opportunity to expand on a topic outside of our regular curriculum. Another teacher and I ran a web fundamentals elective last year where students learned the basics of HTML and CSS using CodeAcademy and then had to build a basic webpage for a final project. Then last spring as we thought about the STEM building and the redesign of our curriculum, we felt it was important that every student gain experience with a form of programming. This year, every 5th and 6th grader will be programming with MIT's Scratch language.
I am also teaching a Computer Programming elective this year where I have introduced Python using CodeAcademy and Trinkets. We are also looking at the basics of app creation using the Marvel app where they can build a prototype of iOS app.  Next year I am looking to expand the curriculum for the rising 6th graders where they can program a Raspberry Pi using the Scratch language. I then would like to expand that into an advanced elective for 7th and 8th graders using python and the Raspberry Pi.
Elliott:  What has using code in your classroom changed for you?
Paul: The integration of coding into the curriculum has energized me to find and research new technologies and tools to use with my students. I completed two online classes this summer and am currently taking an additional two courses through Coursera. Building on my own knowledge allows me to bring new challenges into the classroom.