This is part of a series of posts containing advice and tips for having a great Hour of Code event during CS Ed Week, December 8th – 14th, 2014.  Have your own tips to share?  Find us on Twitter!
Teachers: Whether you're just getting started planning your Hour of Code activity or have everything laid out, don't forget to involve your students' parents!  Having adults from outside the school involved can really enhance your event.  Here's how, with examples from three schools and districts around the US.
Parents: look for ways to get involved at your kid's school!  Regardless of your level of coding ability, there are many ways you can help, from volunteering to helping your child through the activities at home.  Read on for ideas on how to get involved.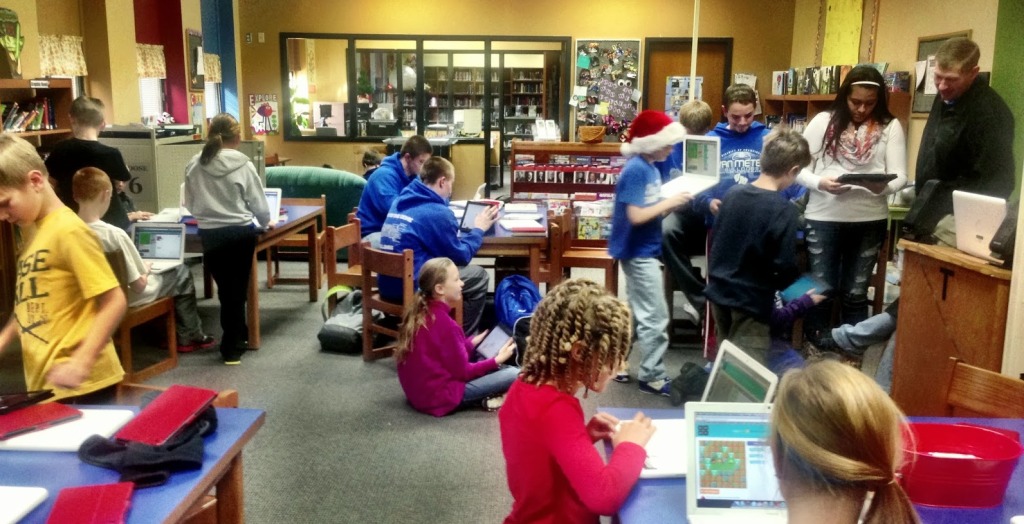 Adult Guests Lend Importance to the Event
Adults typically only visit the school for important days.  Welcoming adult volunteers, parents or not, into the classroom helps reinforce to kids that this is a special day.  Raleigh, North Carolina's Wiley Elementary School welcomes parents into their classrooms for its Hour of Code event, many of whom work in the technology industry.
Teachers have told us that it's helpful to have parents who work with technology answer questions about what they do and why technology is interesting.  Parents who don't work with technology are still very helpful- they help show that anyone can learn and that it's OK to not understand everything when working with code!
Family Coding Nights Help the Learning Sink In
Another approach is to hold events explicitly for families to attend together.
Gideon Hausner School in San Francisco, California is taking this approach this year.  Their Family Coding Day is Sunday, December 7th, immediately before the Hour of Code week kicks off.  By including families, Hausner is ensuring that its parents have the baseline knowledge needed to follow their kids' progress and provide encouragement and help when needed. This is crucial to giving parents the knowledge they need to support their kids' learning.
Palo Alto Unified School District takes a hybrid approach: they have an open invitation for parents to join kids during the Hour of Code event during the day but also are holding a Family Coding Night on Wednesday, December 10th.  Having two options for parents to participate allows them to work around their work schedules to participate when they're able.
Good Things Happen When Parents Meet Each Other
Parents who take time out of their day or evening to attend an event are likely to be dedicated to helping the school.  By connecting parents with each other during these events, initiatives like coding clubs are more likely to become a reality.
Help the parents meet each other and share their interests and backgrounds.  For instance, gathering parent volunteers for a quick round of introductions of their names and backgrounds will seed great discussions down the line.  You'll be surprised what will happen when these like-minded and driven parents get together and help provide opportunities for the students at your school.
What are your tips and advice for engaging parents in Hour of Code activities?  Tweet us with your thoughts!